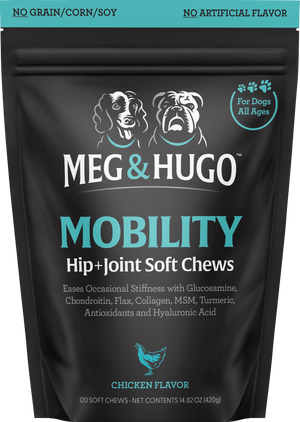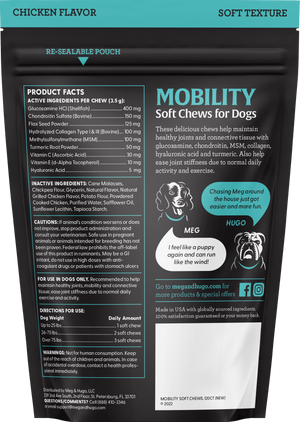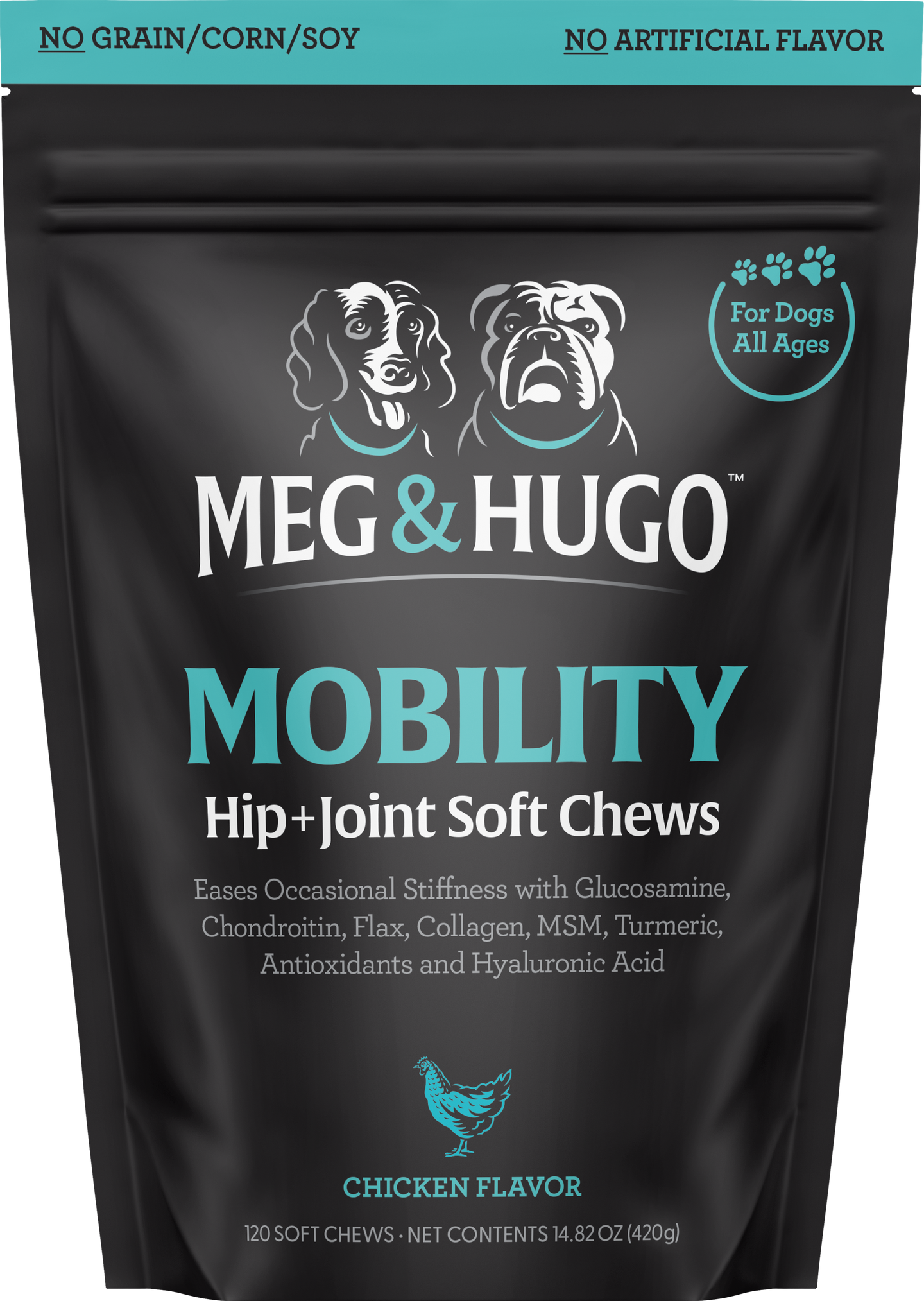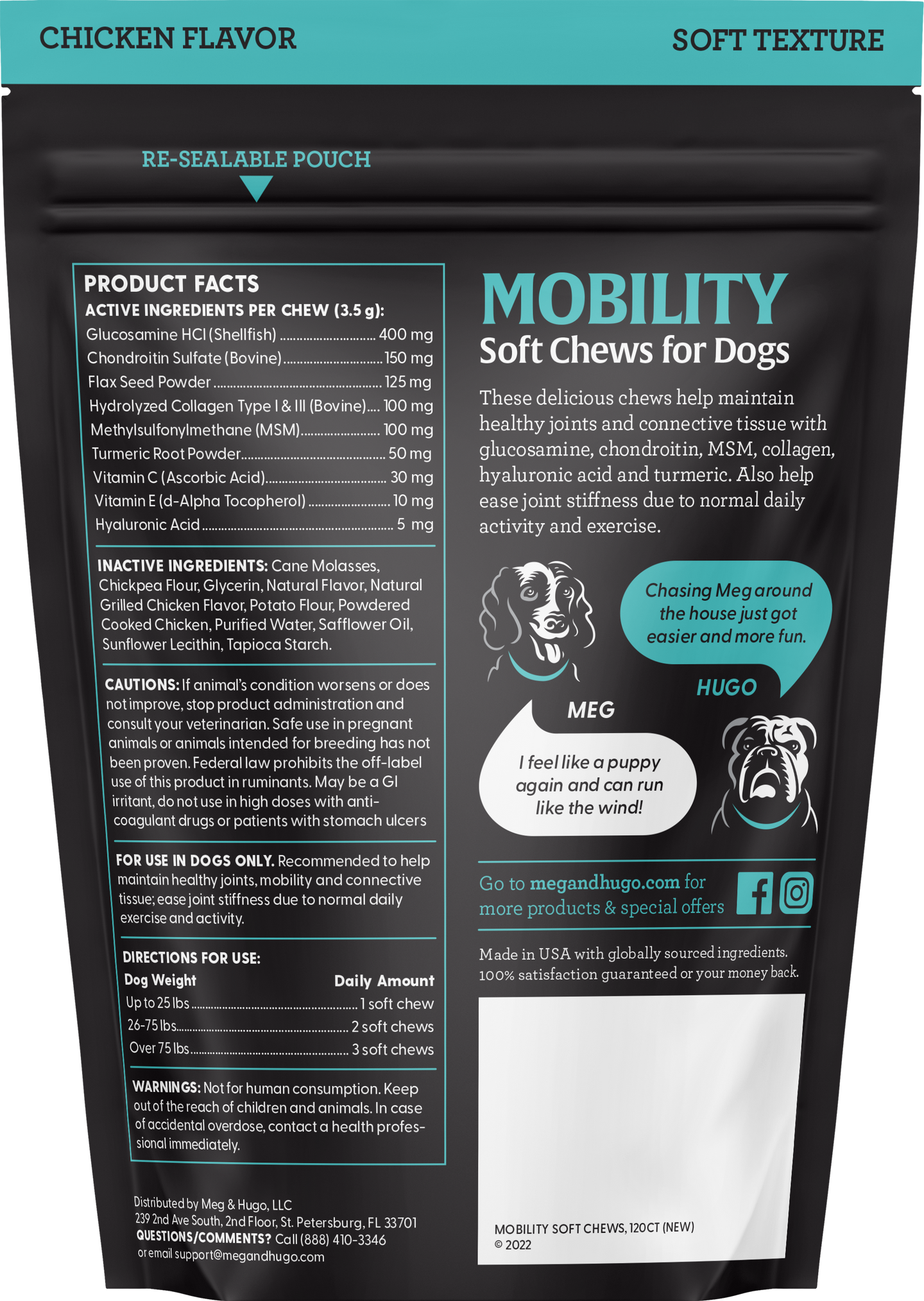 Each bag of Meg & Hugo Mobility Chews has 120 delicious, chicken-flavored soft chews made with the best quality ingredients. Chondroitin, Glucosamine, Collagen Types I & III, Turmeric, Vitamins C & E, Hyaluronic Acid and more to support the joint and connective tissue of your furry friend.
Glucosamine Hydrochloride (Shellfish), Chondroitin Sulfate (Bovine), Flax Seed Powder, Hydrolyzed Collagen Type 1 & 3 (Bovine), Methylsulfonylmethane (MSM), Turmeric Root Powder, Vitamin C (Ascorbic Acid), Vitamin E (d-Alpha Tocopherol), Hyaluronic Acid, Cane Molasses, Chickpea Flour, Glycerin, Natural Flavor, Natural Grilled Chicken Flavor, Potato Flour, Powdered Cooked Chicken, Purified Water, Safflower Oil, Sunflower Lecithin, Tapioca Starch
Meg & Hugo Mobility Chews are created by dog owners with premium ingredients like collagen that support your dog's joints, whether they're still in their puppy years or if they're a senior dog.
Give your dog a Mobility Chew any time of day, with or without a meal. Up to 25 lbs = 1 Soft Chew Daily 26-75 lbs = 2 Soft Chews Daily Over 75 lbs = 3 Soft Chews Daily
Free shipping on orders over $35.
Meg & Hugo Mobility Chews
Potent formula to pack a punch
Higher potency of active ingredients than the leading brands
So delicious your dog will enjoy it time and time again
Customer Reviews
Not sure if working
Not sure if the chews are working yet; I've only been giving our pets the chews for a little over a week though. I am disappointed that they won't eat the chews by themselves. I have to sneak them into something else that they will eat to get them to take the chews.
great product!
We started our 14 yr old Pyrenees on these chews 3-2023. She LOVES them. She even lets us know when its time for her "medicine". She has a much easier time getting up & down, using the stairs and walking around. As long as she's with us she will continue to get these chews! Thank you for an excellent product!
Awesome!
Awesome company and great product! They sent me a QR code with my last purchase. Scanned the code and reviewed the product and they sent me a free bag of joint chews! Thank you!! My German shepherd loves these! Y'all are awesome
Dog likes them
My little terrier loves these!! She thinks they are cookies or treats!