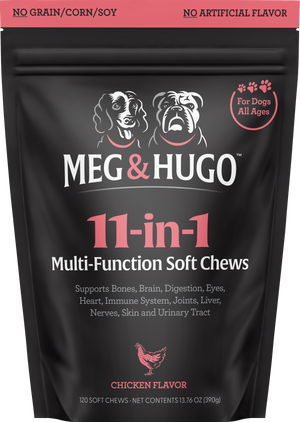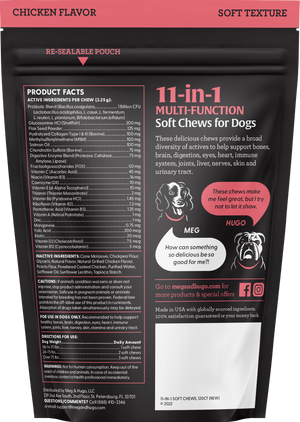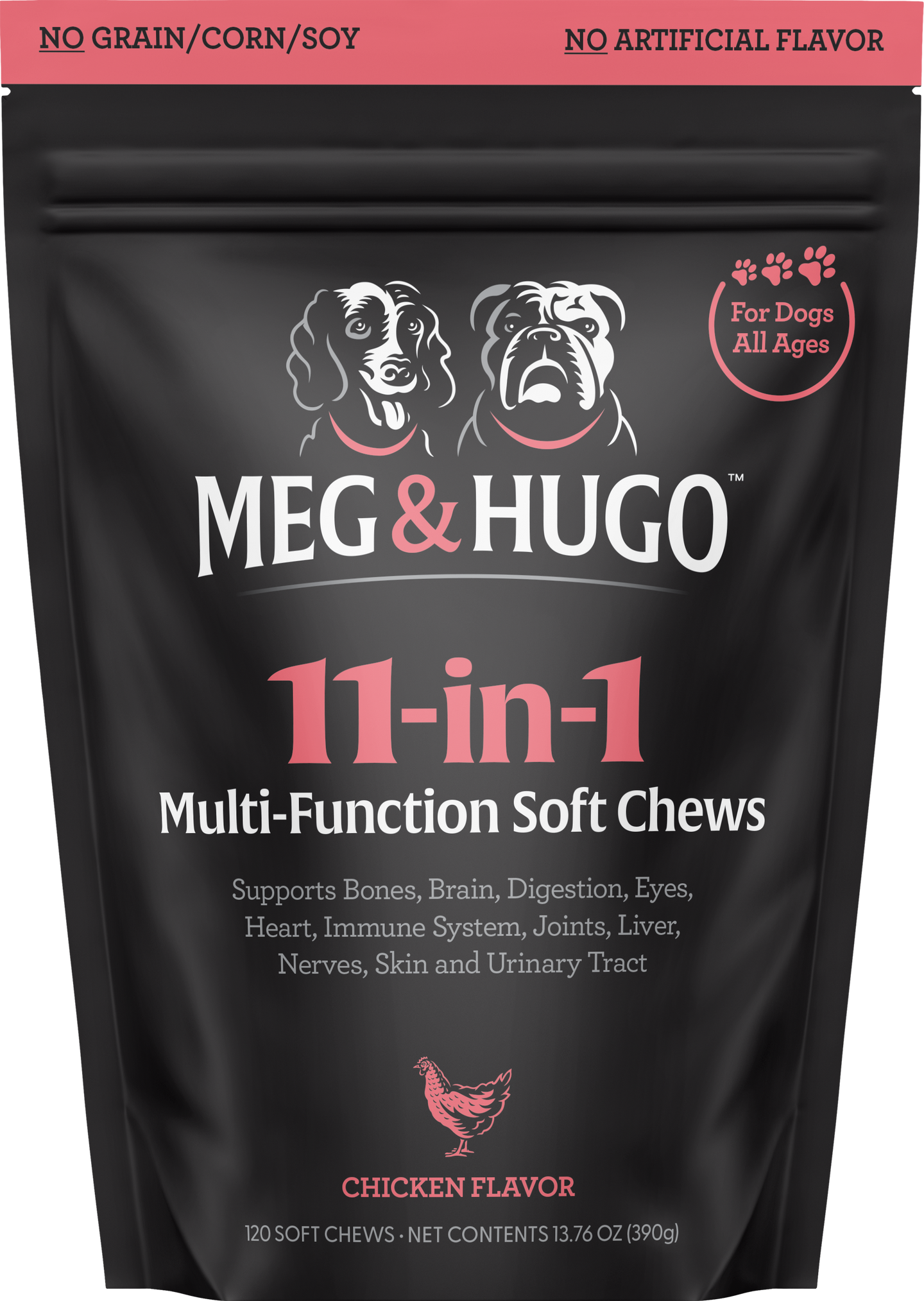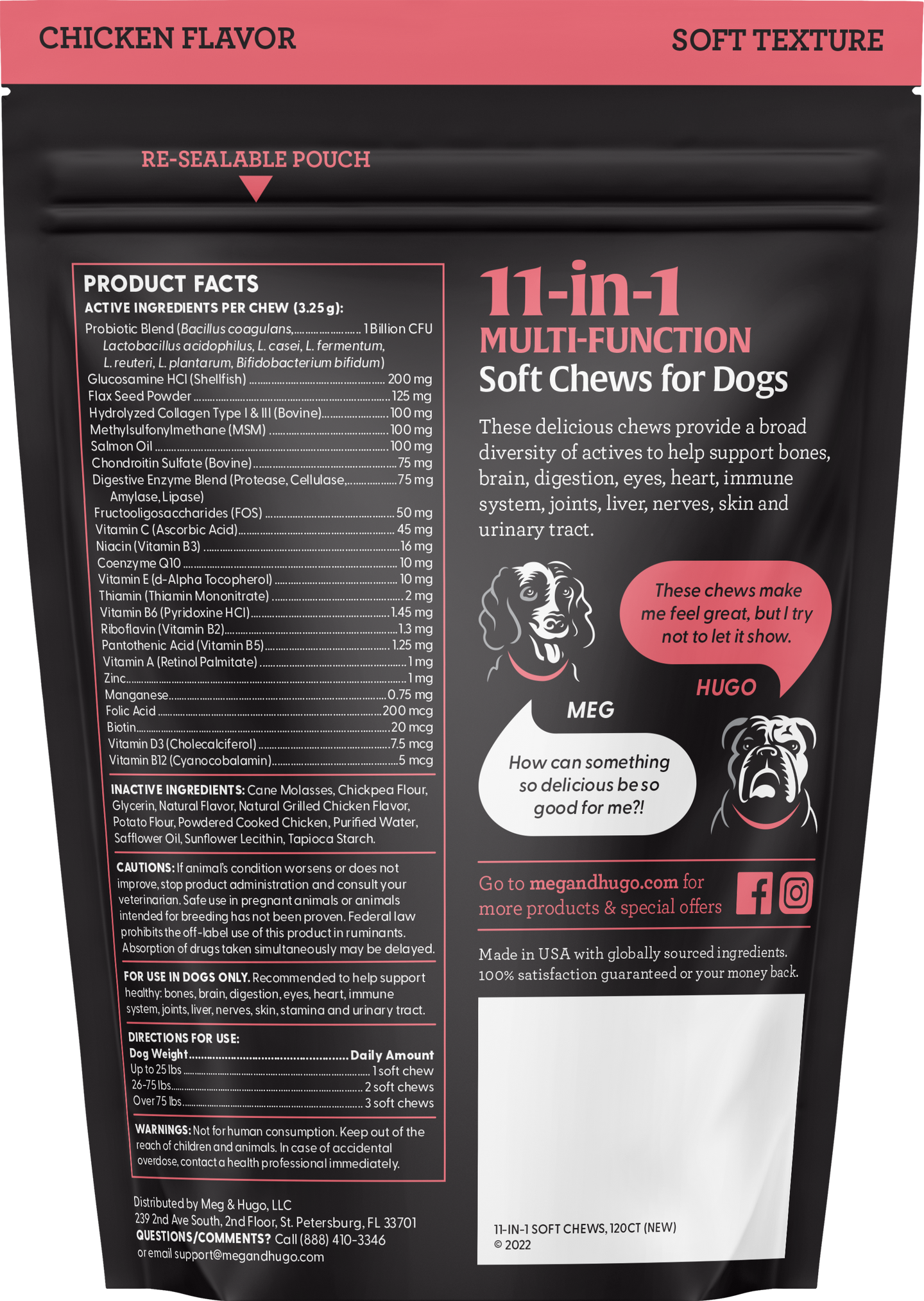 11-in-1 Multi-Function Soft Chews
Each bag of Meg & Hugo 11-in-1 Multi-Function Soft Chews has 120 delicious, chicken-flavored soft chews made with the best quality ingredients. These chews provide a broad diversity of actives to help support bones, brain, digestion, eyes, heart, immune system, joints, liver, nerves, skin and urinary tract. 
Active Ingredients: Probiotic Blend (1 Billion CFU), Glucosamine HCI, Flaxseed Powder, Hydrolyzed Collagen Type I & III, Methylsulfonylmethane, Salmon Oil, Chonroitin Sulfate, Digestive Enzyme Blend, Fructooligosaccharides, Vitamin C, Niacin, Coenzyme Q10, Vitamin E, Thiamin, Vitamin B6, Riboflavin, Pantothenic Acid, Vitamin A, Zinc, Manganese, Folic Acid, Biotin, Vitamin D3, Vitamin B12.

Inactive Ingredients: Cane Molasses, Chickpea Flour, Glycerin, Natural Flavor, Natural Grilled Chicken Flavor, Potato Flour, Powdered Cooked Chicken, Purified Water, Safflower Oil, Sunflower Lectin, Tapioca Starch.
Meg & Hugo 11-in-1 Multi-Function Chews are created by dog owners with premium ingredients, whether they're still in their puppy years or if they're a senior dog.
Give your dog a chew any time of day, with or without a meal. Up to 25 lbs = 1 Soft Chew Daily 26-75 lbs = 2 Soft Chews Daily Over 75 lbs = 3 Soft Chews Daily
Free shipping on orders over $35.
Meg & Hugo 11-in-1 Multi-Function Soft Chews
Potent formula to pack a punch
Higher potency of active ingredients than the leading brands
So delicious your dog will enjoy it time and time again