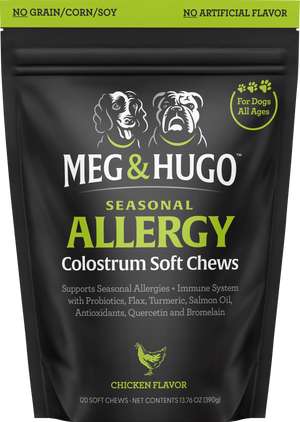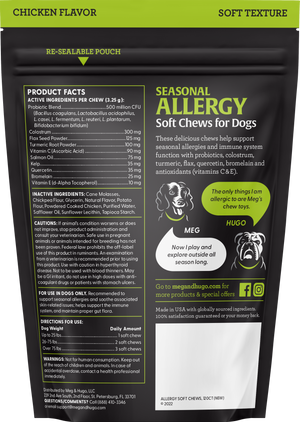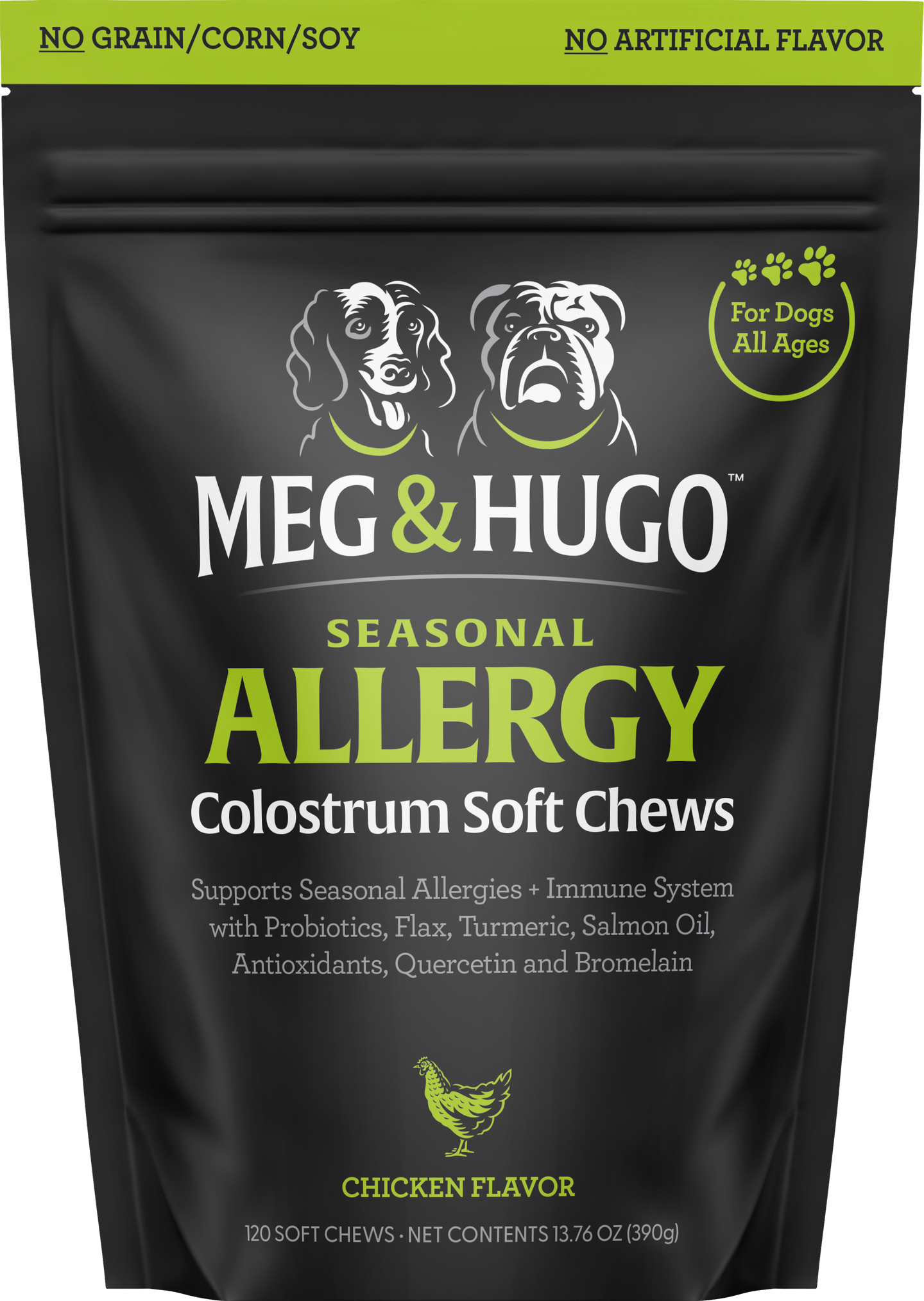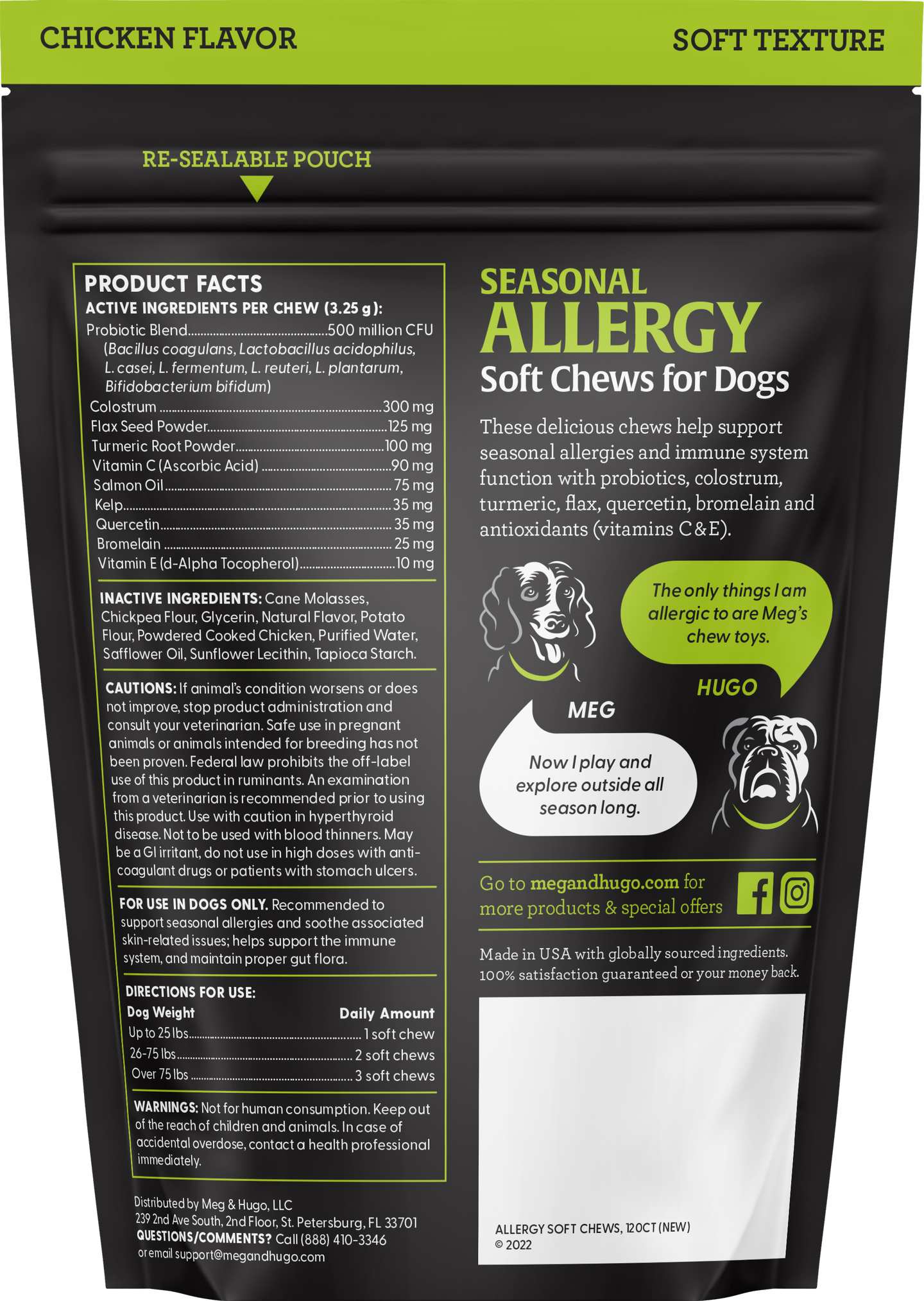 Seasonal Allergy Colostrum Soft Chews
Each bag of Meg & Hugo Seasonal Allergy Colostrum Soft Chews has 120 delicious, chicken-flavored soft chews made with the best quality ingredients. These chews help support seasonal allergies and immune system function with probiotics, colostrum, turmeric, flax, quercetin, bromelain, and antioxidants (vitamin C & E).
Active Ingredients: Probiotic Blend (500 Million CFU), Colostrum, Flax Seed Powder, Turmeric Root Powder, Vitamin C, Salmon Oil, Kelp, Quercetin, Bromelain, Vitamin E.

Inactive Ingredients: Cane Molasses, Chickpea Flour, Glycerin, Natural Flavor, Potato Flour, Powdered Cooked Chicken, Purified Water, Safflower Oil, Sunflower Lectin, Tapioca Starch.
Meg & Hugo Seasonal Allergy Colostrum Chews are created by dog owners with premium ingredients, whether they're still in their puppy years or if they're a senior dog.
Give your dog a chew any time of day, with or without a meal. Up to 25 lbs = 1 Soft Chew Daily 26-75 lbs = 2 Soft Chews Daily Over 75 lbs = 3 Soft Chews Daily
Free shipping on orders over $35.
Meg & Hugo Seasonal Allergy Colostrum Soft Chews
Potent formula to pack a punch
Higher potency of active ingredients than the leading brands
So delicious your dog will enjoy it time and time again
Customer Reviews
Good product
It's taken to the second month of being on it. But showing good results now.
makes my dog healthy
If my eat some food not necessarly for her she get itchy and after a day or two of these allergy bites she stop itching
No more allergies!!
Finally found a product that completely eliminated my GSD's chronic allergies. Amazing results!
Amazing!!
These chews worked wonders for my itchy Boy! His scratching went back to "normal" and his coat is so shiny! And he LOVES them!